After Dark, My Sweet [1990]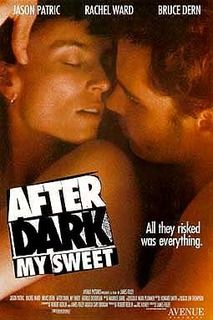 "When a man stops caring what happens, all the strain is lifted from him. Suspicion and worry and fear, all things that twist his thinking out of focus are brushed aside . . ." Jason Patric (The Lost Boys) always seemed to be on the verge of superstardom. The notoriously bad thriller Speed 2: Cruise Control, which won the Razzie Award for Worst Sequel in 1997, pretty much ended that notion. However, Patric is perfectly cast as punch-drunk ex-boxer and drifter Kevin "Kid" Collins in After Dark, My Sweet, a neo-noir film directed by James Foley (At Close Range) and based on a 1955 novel of the same name by Jim Thompson (The Grifters). The cards are definitely stacked against this guy and we sense he's doomed from the outset of this deliberately paced, existential film when he enters a run-down desert bar, meets femme fatale Fay Anderson (Rachel Ward) and is soon enlisted into a doomed-to-fail kidnapping scheme. Bruce Dern portrays the sleazy, less-than-criminal mastermind "Uncle Bud." Critic Roger Ebert remarked that After Dark, My Sweet "remains one of the purest and most uncompromising of modern films noir."

Useless Trivia: Patric is the son of actor/playwright Jason Miller (The Exorcist) and the grandson of Jackie Gleason.
---
---
© 2019 Shelf-Life Productions