At Close Range [1986]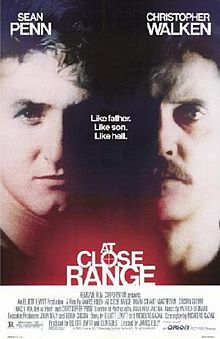 "Like father. Like son. Like hell." A couple of aimless teens in rural Pennsylvania start stealing tractors under the tutelage of career criminal "Brad Whitewood Sr." (Christopher Walken), the sinister father of half-brothers "Brad Jr." (Sean Penn) and "Tommy" (Chris Penn). Brad Jr. is easily lured into the criminal life but becomes quickly disillusioned when he witnesses some of the brutal actions of his borderline psychotic old man (a truly fascinating performance by the always entertaining Walken). Directed by James Foley (After Dark, My Sweet), this intense crime drama was based on a true story and features superb performances by the entire cast, which also includes Mary Stuart Masterson as Brad Jr.'s girlfriend "Terry," Millie Perkins as "Julie," Eileen Ryan (the Penn brothers' actual mother) as "Grandma," Tracey Walter as "Uncle Patch," J. C. Quinn as "Boyd," Candy Clark as "Mary Sue," Crispin Glover as "Lucas," David Strathairn as "Tony Pine," R. D. Call as "Dickie" and Kiefer Sutherland as "Tim." The soundtrack features "Live to Tell" performed by Madonna. At Close Range would make a great double feature with State of Grace (1990), which also stars Sean Penn.

Useless Trivia: Foley also directed Madonna's "Live to Tell" music video.

Did You Know ...
• Roger Ebert called At Close Range "a spare, violent, unforgiving story."
---
---
© 2019 Shelf-Life Productions