Bananas [1971]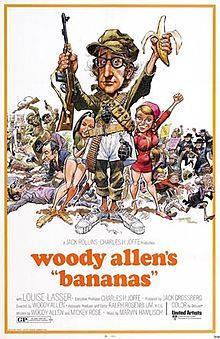 "We fell in love. I fell in love—she just stood there." Early Woody Allen film details the life of "Fielding Mellish," a New York City product tester who somehow ends up as the leader of the revolutionary government of San Marcos. Favorite scene: Mellish tries unsuccessfully to discreetly purchase a copy of Orgasm magazine. The cast includes Allen's ex-wife Louise Lasser ("Nancy") and Carlos Montalban as "Gen. Emilio Molina Vargas." Howard Cosell also makes an appearance, giving a play-by-play account of Fielding's wedding night ("The bride wore the traditional virginal white—as did Mellish"). In addition, look for Dorothi Fox as "J. Edgar Hoover"! The film's working title was reportedly El Weirdo. I'm a big fan of Allen's early comedies, particularly this one, as well as  Take the Money and Run (1969), Play It Again, Sam (1971), Sleeper (1973), Love and Death (1975).

Useless Trivia: In his first appearance in a mainstream film, Sylvester Stallone can be seen in an uncredited role in Bananas as one of two subway thugs beating up an old lady. A terrified Mellish tries desperately to avoid getting involved in the conflict (he even hides behind a newspaper and kicks away the old lady's cane!). Prior to his nonspeaking role in Bananas, Stallone appeared as "Stud" in the low-budget porno film, Party at Kitty and Stud's (1970), as an extra in Lovers and Other Strangers (1970) and as "Jerry Savage" in No Place to Hide (later rereleased as Rebel). 

Did You Know ...
• Allen started out as a comedy writer, earning just $75 a week.
• In 1961, Allen embarked on his stand-up comedy career by making his debut at a club called the Duplex in Greenwich Village.
• Allen's brilliant early stand-up comedy routines can be heard on the albums Standup Comic and Nightclub Years 1964-1968.
---
---
© 2019 Shelf-Life Productions