Blood Guts Bullets & Octane [1998]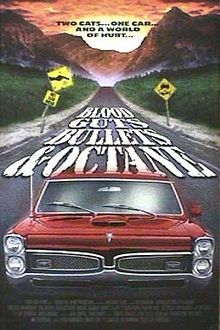 "Two Cats … One Car.. and a World of Hurt!" "Sid" (Joe Carnahan) and "Bob" (Dan Leis), two burned-out used car salesmen on their way down desperately agree to keep a trouble-plagued car – a 1963 Pontiac LeMans convertible – in their lot for two days for a $250,000 pay off. As you might imagine, total chaos ensues! BGBO is an action-comedy with an energetic and inventive plot that will keep you entertained for its 87-minute running time. The dialogue is full of such gems as "It's a hit-and-run world … savage, swallow-you-whole, spit-out-the-bones." Written and directed by Carnahan (Narc), BGBO was reportedly shot in three weeks on a budget of exactly $7,294.19. It definitely exudes a Quentin Tarantino vibe but it's definitely wrapped in its own originality. In a 1998 Film Threat interview, Carnahan remarked, "I don't think a writer's really a very good writer if he relies on a shitload of research to tell stories. It's a universe that is wholly your own construction and not mired in non-fiction elements."

Useless Trivia: BGBO premiered at the New York Independent Feature Film Market and later at the Sundance Film Festival.   
---
---
© 2019 Shelf-Life Productions