Creature from Black Lake [1976]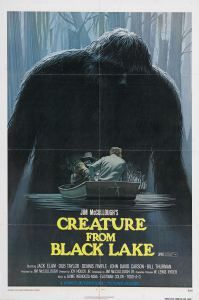 "I'm gonna get my shotgun and make a rug outta that damn thing!" A surprisingly effective low-budget horror flick, Creature from Black Lake was filmed on location in the Louisiana swamps and features John David Carson and Dennis Fimple as "Rives" and "Pahoo," two beer-swilling, skirt-chasing "researchers" from Chicago obsessed with finding a legendary Bigfoot-type creature. All Rives cares about is getting laid, while Pahoo simply craves hamburgers. Of course, these guys are not exactly welcome in this small, conservative Southern town, especially when they play back a recording of the creature's distinctive scream and scare the shit out of some of the locals in a café. Jack Elam excels as drunken hermit "Joe Canton," who lives out in the swamp and relates some nightmarish stories about his encounters with the creature. Also look for Jim McCullough Jr. (who also wrote the script) as "Orville Bridges," Dub Taylor as "Grandpaw Bridges" and Bill Thurman as "Sheriff Billy Carter." Creature from Black Lake was directed by Joy N. Houck Jr., whose credits include The Night of the Strangler (1972) and The Brain Machine (1977), among others. Yes, Creature from Black Lake is a guilty pleasure of mine and not for all tastes but if you enjoy schlocky but eminently entertaining horror films from the 1970s, don't miss it!

Useless Trivia: Taylor is arguably best known as the father of "C.W. Moss" (Michael J. Pollard) in Bonnie and Clyde (1967).
---
---
© 2019 Shelf-Life Productions