Dirty Mary Crazy Larry [1974]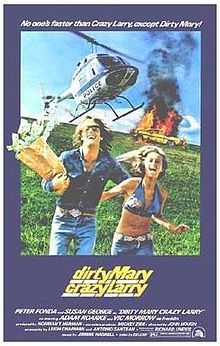 "No one's faster than Crazy Larry, except Dirty Mary!" Simply one of the best car chase films ever, Dirty Mary Crazy Larry would make a great double feature with Vanishing Point (1971) since both films feature obsessive anti-heroes, numerous car crashes, quirky dialogue and shocking, nihilistic endings. Determined to become a NASCAR driver, "Larry Rayder" (Peter Fonda) enlists his mechanic "Deke Sommers" (Adam Roarke) in a plot to rob a grocery store managed by "George Stanton" (Roddy McDowall) of $150,000. Things go relatively smoothly until Larry's one-night stand "Mary Coombs" (Susan George) shows up during the heist (she's upset Larry ran out on her so quickly). The unlikely trio makes their getaway in a 1969 Dodge Charger R/T relentlessly pursued by grizzled bad-ass sheriff "Franklin" (Vic Morrow) and an array of bumbling law enforcement officials. Directed by John Hough (The Legend of Hell House), Dirty Mary Crazy Larry was based on The Chase, a 1963 novel by Richard Unekis. Bottom line: Dirty Mary Crazy Larry is one of those super cool movies from the early 1970s that provides great late-night viewing!

Useless Trivia: Dirty Mary Crazy Larry was one of the featured films at the first Quentin Tarantino Film Festival (QT-Fest) in 1997.    
---
---
© 2019 Shelf-Life Productions