Fat City [1972]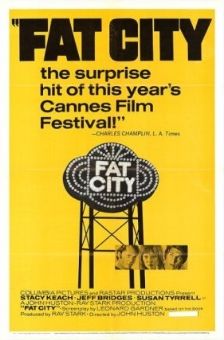 "Before you can get rolling, your life makes a beeline for the drain." In this gritty and uncompromising drama directed by John Huston, Stacy Keach portrays "Billy Tully" – a down-and-out, alcoholic former boxer halfheartedly trying to make a comeback – who encourages naïve young upstart "Ernie Munger" (Jeff Bridges) to follow in his footsteps and join the fight game. Featuring a slew of outstanding performances, Fat City explores the sleazy world of lower-tier boxing where desperate brawlers fight for peanuts and one brutal beatdown can land you on the streets. The aimless characters drift through the skid row bars, rundown pool halls, shabby boxing gyms and cheap hotels of Stockton, California. The ending is exceedingly bleak as we realize that Ernie is most likely headed down the same path as Billy. The excellent supporting cast includes Susan Tyrrell, as "Oma," an obnoxious barfly who hooks up with Billy; Nicholas Colasanto ("Coach" from Cheers) as delusional trainer "Ruben"; Candy Clark as Ernie's girlfriend "Faye"; former boxer Curtis Cokes as Oma's boyfriend "Earl"; and Sixto Rodriguez as washed-up Mexican boxer "Lucero." Fat City was based on the critically acclaimed 1969 novel of the same name by Leonard Gardner. The film's soundtrack features "Help Me Make It Through the Night" by Kris Kristofferson. Tyrell was nominated for an Oscar for "Best Supporting Actress" but lost out to Eileen Heckart (Butterflies are Free). Fat City would make a good double feature with Barfly (1987).

Useless Trivia: Marlon Brando was reportedly Huston's first choice for the role of Tully.

Did You Know ... 
• In A Century of Films (2000), critic Derek Malcolm writes, "What fascinated Huston, once an amateur boxer, were the bottom rungs, almost the lower depths, of a dangerous profession—the losers, who are indeed often more interesting than the winners."
---
---
© 2019 Shelf-Life Productions