Five Easy Pieces [1970]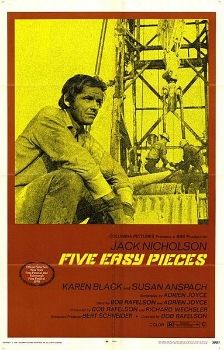 "He rode the fast lane on the road to nowhere." Jack Nicholson collaborated together with director Bob Rafelson on six films together: one psychedelic comedy (Head, co-written by the two), one classic film (Five Easy Pieces), one offbeat drama (The King of Marvin Gardens), one painfully average remake (The Postman Always Rings Twice), one total piece of shit (Man Trouble) and one film noirish thriller (Blood and Wine). By far the best of the bunch, Five Easy Pieces features Nicholson as drifter/oil rig worker "Robert Eroica Dupea," whose working-class existence belies his privileged upbringing as a former classical pianist within a family of musicians. Bobby lives in a trailer, drinks a lot of cheap beer with his buddy "Elton" (Billy "Green" Bush), hangs out in bowling alleys and carries on a casual relationship with flighty waitress "Rayette" (Karen Black). When Bobby learns from his sister "Partita" (Lois Smith) that his father (William Challee) is deathly ill, he heads to the isolated family compound on Puget Sound in Washington where he attempts to deal with his incredibly dysfunctional family and also embarks on a complicated relationship with the beautiful "Catherine Van Oost" (Susan Anspach), who's engaged to his stuffy brother Carl (Ralph Waite). Highlights include Bobby playing piano on the back of a truck during a traffic jam, Bobby picking up two skanks "Twinky" and "Betty" (Marlena MacGuire and Sally Struthers!) from the bowling alley, the infamous restaurant scene pitting Bobby against the waitress (Lorna Thayer) over a side order of toast, Bobby calling the vapid intellectual a "pompous celibate" during the dinner party, Bobby picking a fight with male nurse "Spicer" (John Ryan), Bobby's emotional speech to his wheelchair-bound father and, of course, the final scene at the gas station. The film was nominated for four Academy Awards for Best Picture (lost to Patton), Best Actor (Nicholson lost to George C. Scott, Patton), Best Supporting Actress (Black lost to Helen Hayes, Airport) and Best Original Screenplay (lost to Francis Ford Coppola and Edmund H. North, Patton).

Useless Trivia: The movie's title refers to a book of piano lessons featuring five classical pieces for beginners.

Did You Know ...
• Roger Ebert once remarked that "Robert Eroica Dupea is one of the most unforgettable characters in American movies."
---
---
© 2019 Shelf-Life Productions