George Washington Slept Here [1942]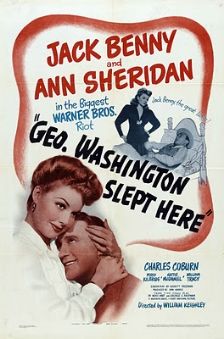 "What do I want to drive in the country for? It's full of insects." Ultimate city dweller "Bill Fuller" (Jack Benny) gets duped by his wife "Connie" (Ann Sheridan) into moving to a rundown old farmhouse in the middle of nowhere that supposedly had some historical significance during the American Revolution. As you can probably expect, chaos ensues. Basically an excuse for Benny to fire off his trademark one-liners (some of which are hilarious and many of which are totally forgettable), the film also features a great supporting cast, including Percy Kilbride as befuddled handyman ""Mr. Kimber," Hattie McDaniel as the Fuller's maid "Hester," Charles Coburn as the bogus rich uncle "Stanley J. Menninger," Joyce Reynolds as Connie's sister "Madge," Charles Dingle as insufferable neighbor "Mr. Prescott," Harvey Stephens as antiques dealer "Jeff Douglas" and Douglas Croft as obnoxious nephew "Raymond." Directed by William Keighley and based on a 1940 play of the same name by Moss Hart and George S. Kaufman, George Washington Slept Here was nominated for a "Best Art Direction" Oscar. The film would make a good double feature with Mr. Blandings Builds His Dream House (1948) or The Money Pit (1986).

Useless Trivia: "Terry," the pet dog in George Washington Slept Here, also portrayed "Toto" in The Wizard of Oz (1939).
---
---
© 2019 Shelf-Life Productions