Hard Times [1975]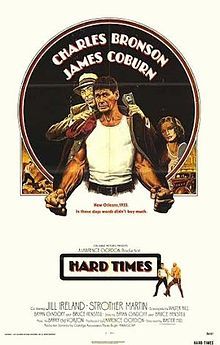 "New Orleans, 1933. In those days words didn't say much." Think Every Which Way But Loose. Move the action to Depression-era New Orleans. Take out the comedy. Replace Clint Eastwood with Charles Bronson. Exchange Sondra Locke for Jill Ireland. Ditch the orangutan. Now you have a good idea what Hard Times is all about. Bronson portrays Chaney, a stoic drifter who arrives in the Big Easy aboard the boxcar of a freight train and soon gets involved in the squalid world of bare-knuckle street fighting. James Coburn turns in another solid performance as Spencer "Speed" Weed, a sleazy fight promoter and chronic gambler. Also look for legendary character actor Strother Martin as Speed's sidekick, Poe. As Lucy Simpson, Ireland simply fills the role. The directorial debut of Walter Hill, Hard Times was originally titled The Street Fighter. Hill would go on to direct The Warriors, The Long Riders, Southern Comfort and 48 Hrs. The film was shot on location in New Orleans. Critic Roger Ebert called Hard Times "a powerful, brutal film containing a definitive Charles Bronson performance."

Useless Trivia: Believe it or not, Bronson was 54 years old when he appeared in this classic flick, one of his most underappreciated tough-guy roles.

Did You Know ...
• Bronson was the only actor to appear in both The Magnificent Seven and The Dirty Dozen. 
• In his profile, "The Knuckles of Saint Bronson" (Blood and Grits, 1979), Harry Crews remarks, "Hard Times is a simple, stark, gutsy, down-but-not-out, back-against-the-wall melodrama."
---
---
© 2019 Shelf-Life Productions