Just One Of the Guys [1985]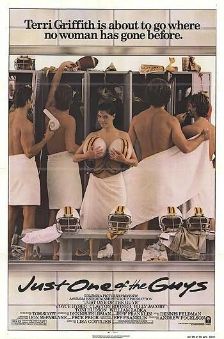 "Terri Griffith is about to go where no woman has gone before." Worried that she is not being taken seriously as an aspiring journalist because of her sex, a high school newspaper editor, "Terri Griffith" (Joyce Hyser), disguises herself as a boy and enrolls in a rival school in order to write an article for a journalism competition in this engaging teen comedy directed by Lisa Gottlieb. Her horny younger brother "Buddy" (Billy Jayne, credited as "Billy Jacoby") practically steals the show: "Can't you think of anything more profound than getting laid?" . . . "A blow job?" The solid cast includes Toni Hudson as Terri's best friend "Denise," Clayton Rohner as Terri's "project" and nerdy goofball "Rick," Leigh McCloskey as Terri's befuddled boyfriend "Kevin," Sherilyn Fenn as obsessed Terri stalker "Sandy" and William Zabka as school douchebag "Greg Tolan." The action culminates with some bizarre happenings at the senior prom. Just One of the Guys features an eclectic soundtrack that includes "Down on the Street" by The Stooges, "Tonight You're Mine Baby" by Ronnie Spector and "Jealous" by Berlin.

Useless Trivia: Zabka also portrayed douchebag martial arts student "Johnny Lawrence" in The Karate Kid (1984) and douchebag diver "Chas Osborne" in Back to School (1986). 
---
---
© 2019 Shelf-Life Productions