Kansas City Confidential [1952]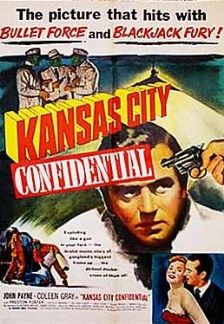 "Exploding! Like a gun in your face!" The title of this sweaty, brutal film noir directed by Phil Karlson is rather misleading since most of the action takes place in a small fishing resort in Mexico. World War II veteran and ex-con "Joe Rolfe" (John Payne), the driver of a flower delivery truck, gets framed for an armored truck robbery of more than one million dollars and then heads to Mexico to hunt down the actual culprits, a great trio of legendary movie tough guys – "Pete Harris" (Jack Elam), "Tony Romano" (Lee Van Cleef) and "Boyd Kane" (Neville Brand). The catch is that all of these lowlifes were recruited anonymously and wore masks during the bank robbery, so they are strangers to each other and to the actual mastermind – disgruntled former police captain "Tim Foster" (Preston Foster). When Harris gets gunned down by Mexican police on the way to the resort, Rolfe simply assumes his identity. Things get really complicated when Rolfe/Harris falls for Foster's daughter "Helen" (Coleen Gray). Kansas City Confidential features a fast-paced plot, solid acting, and some sharp and witty dialogue such as "What makes a two-bit heel like you think a heater would give him an edge over me?" The film's plot reportedly inspired Quentin Tarantino's Reservoir Dogs (1992).

Useless Trivia: Karlson and Payne teamed up again in 99 River Street (1953) and Hell's Island (1955).  
---
---
© 2019 Shelf-Life Productions