Last Woman on Earth [1960]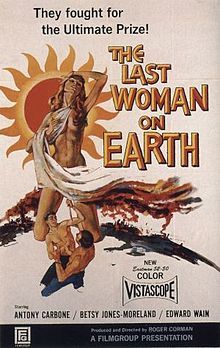 "You mean you'd exile one-third of the human race?" A post-apocalyptic thriller that turns into a rather routine love triangle, Last Woman on Earth is notable for featuring a screenplay by Robert Towne (Chinatown), who also appeared in the film (billed as "Edward Wain"). The film actually opens during a cockfight in Puerto Rico (not kidding!). A sleazy businessman, Harold Gern (Anthony Carbone, sort of a poor man's Ben Gazzara) and his trophy wife, Evelyn (Betsy Jones-Moreland) are vacationing on the island, along with Gern's friend and legal advisor, Martin Joyce (Towne). While scuba diving, the trio surfaces to discover that a freak catastrophe has temporarily deprived the world of oxygen. Therefore, they might be the last three people left in the world! So naturally these two idiots end up fighting constantly over Evelyn's affections. A Roger Corman cheapie (note the sensationalistic movie poster!), Last Woman on Earth features some of the fatalism that would later appear in Chinatown. However, keep your expectations fairly low on this one. Added bonus: It zips by rather quickly with a running time of just 71 minutes. The film's last scene takes place at the Castillo San Felipe del Morro (Morro Castle). Last Woman on Earth would make a nice double feature with The Last Man on Earth (1964), which starred Vincent Price.

Useless Trivia: The three actors from Last Woman on Earth also starred in Corman's Creature from the Haunted Sea (1961), which along with Battle of Blood Island (1960) make up Corman's so-called "Puerto Rico Trilogy."

Did You Know ...
• Robert Towne once remarked, "Roger [Corman] said to me, 'I want you to write a script with the title The Last Woman on Earth. That's the amount of instruction I was given. Nothing about the plot or anything else. That's it."
---
---
© 2019 Shelf-Life Productions