Lemora: A Child's Tale of the Supernatural [1973]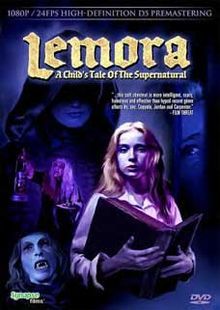 "My spirit is the strongest ever. No matter by which name I am called, I am recognized as the most powerful in the hearts of all." Offbeat and low budget, this atmospheric horror gem (AKA Lemora: The Lady Dracula) about the loss of innocence was written and directed by Richard Blackburn. The film has developed a significant cult following over the years and is perfect for late, late night viewing. First-time viewers will either love it or hate it—there is no middle ground here folks! If you like gritty horror flicks from the early 1970s, you will probably love it. If not, stay the hell away! The action takes place in the South during the Great Depression. Thirteen-year-old "Lila Lee" (Cheryl Smith) has been raised by a sleazy Reverend (Blackburn) at the local church since her father, "Alvin Lee" (William Whitton), is a notorious gangster on the run. Known as "the Singin' Angel" at the church for her remarkable vocal abilities, Lila is tricked into traveling to the eerie small town of "Astaroth" to visit her ailing father. She runs into several creepy, leering individuals such as "The Ticket Man" (Steve Johnson) and the maniacal "Bus Driver" (Hy Pyke). In fact, every adult Lila encounters is corrupt in his or her own way. During the terrifying nocturnal journey, the bus is surrounded by a gang of savage mutants and the Bus Driver gets brutally attacked. Lila lets go of the brake and coasts the bus into town, where she is kept captive by the mysterious vampiress "Lemora" (Lesley Gilb), who surrounds herself with several ghoulish children. Lila eventually learns the horrible truth about what happened to her father and plots her escape. Maxine Ballantyne in her only film role is perfectly warped as Lemora's sidekick, the old hag "Solange." In a 2004 interview, Blackburn remarked, "[Lemora] fell between the cracks of art film and exploitation film." Although he never directed another film, Blackburn cowrote the black comedy Eating Raoul (1982) with Paul Bartel.

Useless Trivia: Cult actress Cheryl "Rainbeaux" Smith appeared in several other memorable B-movies such as Caged Heat (1974), The Swinging Cheerleaders (1974), Video Vixens (1975), The Pom Pom Girls (1976) and Massacre at Central High (1976), among others. She died in 2002 after a prolonged struggle with heroin addiction.
---
---
© 2019 Shelf-Life Productions