Mountains of the Moon [1990]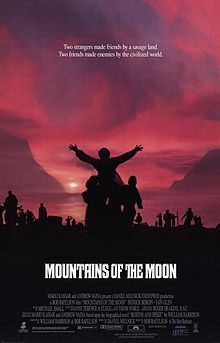 "Two strangers made friends by a savage land. Two friends made enemies by the civilized world." Directed by Bob Rafelson (Five Easy Pieces), Mountains of the Moon explores the incredible story of 19th-century explorers Richard Francis Burton (Patrick Bergin, perhaps best known for portraying the evil obsessive-compulsive yuppie opposite Julia Roberts in Sleeping with the Enemy) and John Hanning Speke (Iain Glen) as they overcome extreme adversity in their attempt to discover the source of the Nile River. Unfortunately, once they return to England, their friendship devolves into a bitter rivalry fueled by members of the Royal Geographical Society. Mountains of the Moon features an enticing story, brilliant cinematography (shot by Roger Deakins) and an excellent cast that includes Fiona Shaw as "Isabel," Delroy Lindo as "Mabruki," Bernard Hill as "Dr. David Livingstone," Peter Vaughn as "Lord Houghton," John Savident as "Lord Murchison," James Villiers as "Lord Oliphant" and Richard E. Grant as "Larry Oliphant." In addition, Omar Sharif appears uncredited as the Arab chief in Cairo.

Useless Trivia: The film was based on William Harrison's 1982 historical novel Burton and Speke.   
---
---
© 2019 Shelf-Life Productions