Ninety-Nine River Street [1953]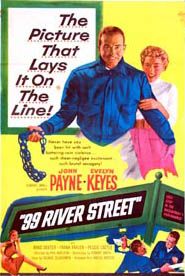 "There are worse things than murder. You can kill someone an inch at a time." A relatively unknown film noir gem, 99 River Street stars John Payne (Miracle on 34th Street) as Ernie Driscoll, a short-tempered former boxer who missed his big shot and now drives a cab in New York City to make ends meet. To make matters worse, his bitchy ex-showgirl wife, Pauline (Peggie Castle), is cheating on him with jewel thief Victor Rawlins (Brad Dexter). Through a series of unfortunate events, Driscoll is framed for the murder of his wife. Evelyn Keyes (best known as Scarlett O'Hara's sister, Suellen in Gone with the Wind) is an aspiring Broadway actress named Linda James who tries to help Driscoll clear his name, while Frank Faylen (best known as Ernie Bishop, the taxi driver in It's a Wonderful Life) portrays Driscoll's buddy, Stan Hogan. Directed by Phil Karlson, 99 River Street boasts excellent cinematography by Franz Planer. My only problem with this gritty film is that they tack on a happy ending that seems so out of place with the rest of the movie. Everything else about 99 River Street is great and it definitely deserves a wider audience.

Useless Trivia: The film's tagline screams: "Rips into you like a double-crossing Dame!"
---
---
© 2019 Shelf-Life Productions