Quicksand [1950]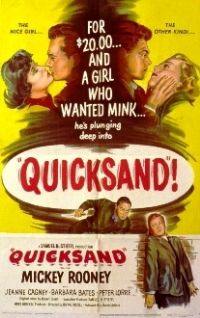 "I feel like I'm being shoved into a corner and if I don't get out soon, it'll be too late. Maybe it's too late already!" An offbeat, low-budget film noir that stars Mickey Rooney as "Dan Brady," an auto mechanic whose life starts to spiral out of control after he "borrows" $20 from the cash register at work to pay for a date with money-grubbing femme fatale "Vera" (Jeanne Cagney, James' younger sister). Before you know it, this young dope is involved in an armed robbery, car theft, breaking and entering, carjacking, kidnapping and possibly murder! Barbara Bates (Phoebe in All About Eve) portrays Dan's too-good-to-be-true girlfriend "Helen" and Art Smith plays Dan's dipshit boss "Oren Mackay," while Peter Lorre nearly steals the show as sleazy arcade owner "Nick Dramoshag." Also look for a brief, uncredited appearance by Jack Elam in the bar scene (if you blink you'll miss him!). The film's tagline screamed, "This is the story of a nice guy who borrows $20 from a cash register to keep a date … with a cop … and a killer!" So who cares if the film is marred by an awful ending straight out of one of The Mick's Andy Hardy pictures - the journey itself is a hell of a lot of fun! Directed by Irving Pichel (The Most Dangerous Game), Quicksand was filmed in and around the Santa Monica Pier. Quicksand would make a great double feature with Detour (1945).

Useless Trivia: In his 1991 autobiography, Life Is Too Short, Rooney remarked, "The less said about Quicksand, the better, except to note that it was aptly titled. We sank in it."

Did You Know ...
•  Rooney's real name is Joe Yule Jr. 
---
---
© 2019 Shelf-Life Productions