School for Scoundrels [1960]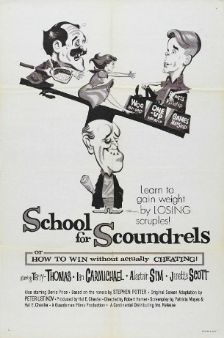 "Learn to gain weight by LOSING scruples!" A frequently hilarious British comedy directed by Robert Hamer (Kind Hearts and Coronets), School for Scoundrels (subtitled "or How to Win Without Actually Cheating!") was based on Stephen Potter's popular series of satirical self-help books. Perpetual loser "Henry Palfrey" (Ian Carmichael) gets cheated out of everything by his devious rival, the ultimate cad "Raymond Delauney" (Terry-Thomas), who not only underhandedly defeats him at tennis but also undermines his chances for a relationship with "April Smith" (Janette Scott). In addition, Palfrey's employees show him little respect and he also gets conned into buying a total clunker, the 1924 "Swiftmobile," by two sleazy car salesman known as the "Winsome Welshmen" (Dennis Price and Peter Jones). A dejected Palfrey decides to attend the "School of Lifemanship" where he learns the fine art of taking advantage of others under the tutelage of "Mr. Potter" (the great Alastair Sim). Palfrey soon learns that "lifemanship is the science of being one up on your opponents at all times. It is the art of making him feel that somewhere, somehow he has become less than you – less desirable, less worthy, less blessed." Armed with his newfound knowledge, Palfrey starts to turn the tables on his enemies, while seducing April in the process.

Useless Trivia: The film was loosely (and rather pointlessly!) remade in 2006 with Billy Bob Thornton and Jon Heder.      
---
---
© 2019 Shelf-Life Productions