The Girl Can't Help It [1956]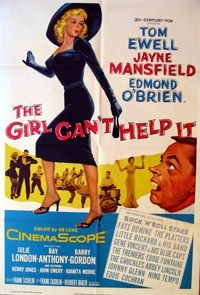 "If that's a girl, then I don't know what my sister is!" Buxom Jayne Mansfield stars as aspiring singer "Jerri Jordan" in this Frank Tashlin classic (originally titled Do Re Mi) that features the music of Fats Domino ("Blue Monday"), Gene Vincent ("Be-Bop-A-Lula"), Little Richard ("The Girl Can't Help It") and Eddie Cochran ("Twenty Flight Rock"), among others. If you're a fan of early rock 'n'roll, this film is for you! William Holden clone Tom Ewell costars as booze-addled press agent "Tom Miller," along with Edmond O'Brien (as gangster "Marty 'Fats' Murdock"!) and Julie London. Tashlin also directed Will Success Spoil Rock Hunter? (1957), which starred Mansfield, along with Tony Randall. Both John Lennon and Paul McCartney were reportedly big fans of the The Girl Can't Help It.

Useless Trivia: Producers reportedly wanted Elvis Presley to perform in the film but his manager Colonel Tom Parker demanded too much money.
---
---
© 2019 Shelf-Life Productions