The Last American Hero [1973]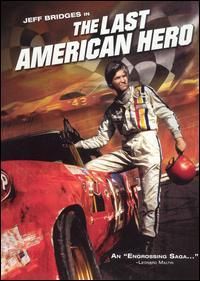 "I'm gonna whip your ass, along with everybody else." Loosely based on the early years of NASCAR legend and Wilkes County, North Carolina, native Junior Johnson, The Last American Hero profiles "Junior Jackson" (Jeff Bridges) as he rises from outlaw driver in the family moonshine business to become a formidable competitor in the professional stock car racing circuit. Directed by Lamont Johnson and based on a Tom Wolfe essay (first published in Esquire in March 1965), the low-budget film is bolstered by a great performance by Bridges, some action-packed racing footage and a solid supporting cast that includes Valerie Perrine as "Marge," Gary Busey as "Wayne," Art Lund as "Elroy Jackson Sr.," Geraldine Fitzgerald as "Mrs. Jackson," William Smith as "Kyle Kingman," Ed Lauter as "Burton Colt" and Ned Beatty as "Hackel." Last but not least, the soundtrack features Jim Croce's classic tune, "I Got a Name." What more could you ask for?

Useless Trivia: In 1986, President Ronald Reagan granted Johnson a presidential pardon for his federal moonshining conviction in 1956.  
---
---
© 2019 Shelf-Life Productions