The Picture of Dorian Gray [1945]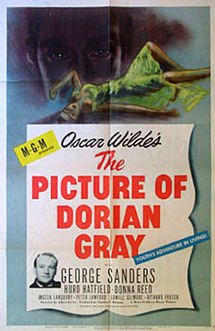 "If only it was the picture who was to grow old and I remain young. There's nothing in the world I wouldn't give for that. Yes, I would give even my soul for it." An excellent adaptation of Oscar Wilde's classic 1891 novel directed by Albert Lewin (The Moon and Sixpence), narrated by Cedric Hardwicke and released by MGM, The Picture of Dorian Gray features Hurd Hatfield as the creepy, hedonistic title character, who sells his soul for everlasting youth in Victorian London. Lowell Gilmore portrays the talented artist "Basil Hallward," who paints Dorian's portrait, while George Sanders excels as the cynical "Lord Henry Wotten," who encourages Dorian along his corrupt path and gets the opportunity to deliver some great lines such as "Most people die of a sort of creeping common sense and discover too late that the only things one never regrets are one's mistakes." Also look for Angela Lansbury, who was nominated for an Academy Award for Best Supporting Actress for her performance as "Sibyl Vane," the beautiful, naïve young singer at the seedy "Two Turtles" music hall, who is seduced and quickly abandoned by Dorian. The cast includes Donna Reed, Peter Lawford and Richard Fraser. Interestingly, though the film is in black-and-white, there are four instances of the ever-increasingly debased portrait (which was painted by Ivan Le Lorraine Albright) in color. The portrait in its final form is currently part of the collection at The Art Institute of Chicago.

Useless Trivia: The Picture of Dorian Gray won the Academy Award for Best Cinematography (cinematographer = Harry Stradling).   
---
---
© 2019 Shelf-Life Productions