The Whole Wide World [1996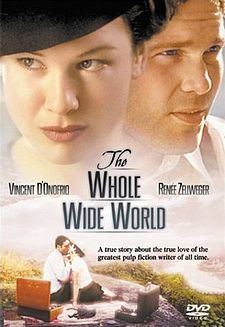 "A true story about the true love of the greatest pulp fiction writer of all time." Eccentric, socially awkward and reclusive, pulp fiction writer Robert E. Howard (1906-36) was the unlikely creator of "Conan the Barbarian" and a pioneer in the fantasy genre. An extremely low-key drama, The Whole Wide World traces the brief, rather strange romance between Howard (Vincent D'Onofrio – "Gomer Pyle" from Full Metal Jacket) and schoolteacher/aspiring author Novalyne Price (Renee Zellweger) in a small Texas town during the Great Depression. When he's not "courting" Price, Howard spends most of his time brooding in front of the typewriter, swinging imaginary swords through nearby fields or looking after his ill, domineering mother (Ann Wedgeworth). Tragically, Howard committed suicide at the age of 30 shortly after his mother slipped into a coma in 1936. He is buried in Greenleaf Cemetery in Brownwood Texas. The Whole Wide World unfolds gradually with little plot to speak of but features solid acting and provides plenty of rewards for the patient viewer.

Useless Trivia: Directed by Dan Ireland, the film was adapted from Price's 1986 memoir, One Who Walked Alone.
---
---
© 2019 Shelf-Life Productions