Westworld 1973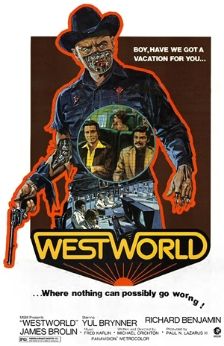 "Boy, have we got a vacation for you …" Imagine if the audio-animatronic figures at the Hall of Presidents in Disney's Magic Kingdom Park at Disney World suddenly went berserk and started attacking the audience and you will get an idea what this highly entertaining futuristic thriller is all about. "John Blane" (James Brolin) and "Peter Martin" (Richard Benjamin) sign up for a very expensive vacation at an adult theme park run by the Delos corporation that features total immersion into an "Old West" environment populated with audio-animatronic townspeople, bandits and prostitutes (the other two "worlds" are Medieval World and Roman World). However, a computer virus infects the robots, causing them to stalk and kill the human guests. Yul Brynner is chillingly effective as the trash-talking, seemingly indestructible robot known as the "Gunslinger" (sort of a demented homage to his character "Chris" from The Magnificent Seven), who relentlessly stalks Peter through all three worlds. Although the special effects are kind of cheap and the whole production exudes a somewhat amusing '70s vibe, Westworld is actually a hell of a lot of fun. Reportedly the first feature film to employ digital image processing, Westworld was written and directed by Michael Crichton, who would later expand on the "theme park run amuck" idea in the Jurassic Park franchise. Westworld also stars Alan Oppenheimer, Victoria Shaw, Linda Scott and Dick Van Patten (as a nerdy banker and sheriff wannabe!). A less successful sequel to Westworld, Futureworld, was released in 1976 and starred Peter Fonda and Blythe Danner, followed by a short-lived TV series, Beyond Westworld, in 1980.



Useless Trivia: Halloween director John Carpenter once remarked in an interview that "If one goes back and looks at Westworld, that picture involved a robot gunfighter that keeps coming back again and again. I copied a bit of that idea and added it to a horror film on Halloween night with teenagers. To make Michael Myers frightening, I had him walk like a man, not a monster." 

Did You Know ...
• In the June 28, 2013, issue of Entertainment Weekly, director Guillermo del Toro remarked, "The main special effect in [Westworld] is Yul Brynner. His movement, his mythic stature and the absolute control of the performance stand the test of time. Almost nothing else in the film does."

 
 
---
---
© 2019 Shelf-Life Productions